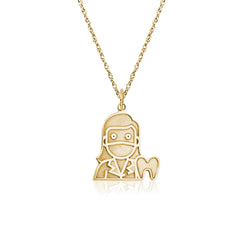 Woman in Dentistry in 14 KT Solid Gold with Gold chain Necklace
This custom curated 14 KT Gold necklace for BrownGirl RDH scholarship foundation, represents a woman in dentistry who is caring and professional. Chain length 16/18 in.

All proceeds go to BrownGirl RDH to help underserved Dental Hygiene students in need.
Purchase one for great cause.

A gift for any occasion.