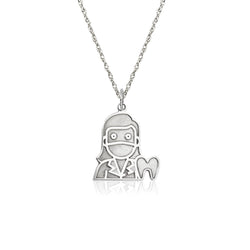 Woman in Dentistry Sterling Silver .925 Necklace
This custom curated "woman in dentistry " in Sterling Silver .925 necklace with 16/16 in chain for BrownGirlRDH scholarship foundation.
It represents a woman in dentistry who is caring and professional. Portion of proceeds will go to BrownGirl RDH to help underserved Dental Hygiene students in need.
Purchase one for a great cause and for you to represent yourself as a Dental Professional who supports BrownGirlRDH.